Office in Catonsville, Serving the Greater Baltimore area.
Hours by appointment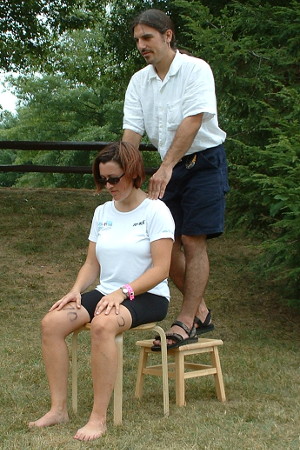 Shiatsu on the Spot
For the office - parties - retail - nightclubs - special events
Shiatsu, sometimes called "acupressure massage", is an ancient form of healing bodywork from Japan. Now EarthTouch brings it to you in the most convenient form ever - Shiatsu on the Spot, performed at your location.
Shiatsu on the Spot sessions last five to fifteen minutes, allowing many people to receive the benefits of bodywork in a limited time.
Let us help you:
Beat office stress. Shiatsu in the workplace can help promote employee health and combat fatigue. It's an investment in your company's most important resource.
Attract customers to your store, venue, or event. Offering shiatsu can help generate interest and give customers a pleasant and unique experience. Looking to attract a hip clientele, or promote a world vibe? Shiatsu is as international as it gets, and healthy relaxation never goes out of style.
Give a bonus to visitors and VIPs. Businesses: shiatsu helps your business partners recover from hours stuck on a plane. Music venues: treat musicians to a pre- or post-show shiatsu session.
Or just have fun. Shiatsu on the Spot is great for parties!
SotS vs. Chair Massage
Shiatsu on the Spot uses techniques originally designed for a clothed and seated client. In contrast, "chair massage" takes Swedish massage techniques, meant for use on disrobed oiled clients lying on a table, and attempts to adapt these to a seated clothed client.
Typically, shiatsu is performed with the client sitting or lying on a soft mat or futon on the floor. Many Americans, however, are not comfortable sitting on the floor in a public setting. Therefore we have adapted the techniques for use on a client seated on a stool, in five to fifteen minute sessions.
Shiatsu on the Spot uses the techniques of acupressure to do more than just relax tight muscles; it works toward the balancing of all aspects of the body and the mind. And unlike chair massage, which requires clients to sit on an ungainly chair with their face pressed into an uncomfortable pad, EarthTouch's Shiatsu on the Spot seats clients on a simple dignified wooden stool.
Of course, we also have full shiatsu sessions available.
Please explore the links for more information about our services, and contact us to discuss how we can help you.
E-mail tms@EarthTouchShiatsu.com or call Tom Swiss at 443-803-9621 for more information.