Office in Catonsville, Serving the Greater Baltimore area.
Hours by appointment
Upcoming classes and events: "Acupressure for Autumn", Wed, Sep 27, 7-9pm, on-line or in person in Catonsville; "Living More Magically", Sun, Oct 29, 2-5pm, on-line or in person in Catonsville. Friday Nov 24, 4-5pm, "Black Friday" meditation, Revolve Wellness Studios in Catonsville. Contact me to register or for more information.
Who can benefit from shiatsu?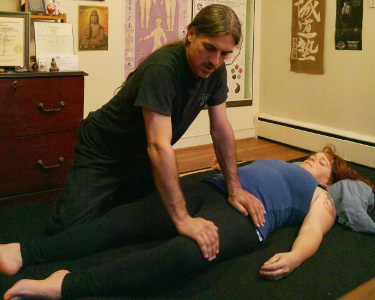 Everyone can use help with relieving stress and promoting health and vitality. In Japan, shiatsu is commonly practiced at home to benefit family members of all ages.
Shiatsu can be useful for people suffering from many stress-related disorders, including:
Asthma
Joint and muscle pain
Back pain
Fibromyalgia
Allergies
Headaches and migraines
Repetitive motion and other musculoskeletal injuries
Seasonal affective disorder
TMJ problems
Menstrual and peri-menopausal distress
Depression and anxiety
Gastrointestinal problems (digestion, IBS, constipation)
Shiatsu can also be a beneficial form of supportive care for people facing serious illness, such as cancer; it can help relieve stress and some of the side effects of invasive treatments. Shiatsu does not cure disease, but helps support and stimulate the body's own healing potential. It is not a substitute for conventional medical treatment.
Shiatsu therapists do not diagnose or treat diseases as defined in Western medicine, but assess and treat based on "patterns of disharmony" from the theories of Chinese medicine.
Research
(This section moved to its own page.)