Office in Catonsville, Serving the Greater Baltimore area.
Hours by appointment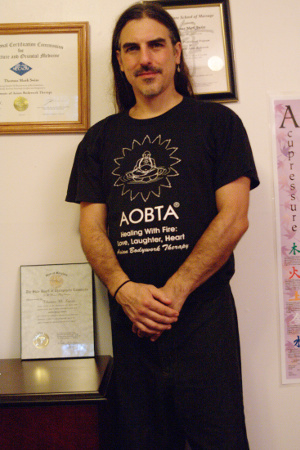 About Tom Swiss
Tom Swiss is a graduate of the Shiatsu and Asian Bodywork program at the Baltimore School of Massage, where he was trained in both the Traditional Chinese Medicine and Zen/Masunaga approaches to shiatsu. He is certified as a Diplomate in Asian Bodywork Therapy by the National Certification Commission for Acupuncture and Oriental Medicine, a Certified Practitioner by the American Organization for Bodywork Therapies of Asia, and a Maryland Licensed Massage Therapist.
Tom holds a master's degree in Computer Science from the University of Maryland, and a godan (fifth degree black belt) ranking in karate. His years of experience as a software developer have made him familiar with the stresses placed on the body and mind by the professional workplace, while in his role as a karate student and teacher he has gained firsthand knowledge about athletic training and injuries.
He has also established a reputation as a poet, a musician, and a lecturer on spirituality. His book Why Buddha Touched the Earth was published by Megalithica Books in 2013, and he blogs at Patheos as "The Zen Pagan"