Office in Catonsville, Serving the Greater Baltimore area.
Hours by appointment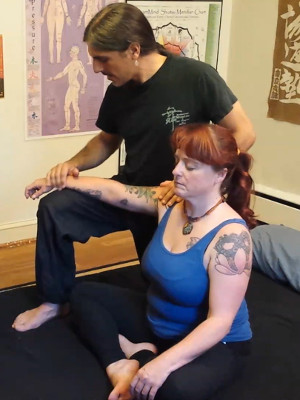 You can buy a gift certificate by purchasing on-line with PayPal. Other options are below.
You can pay me with any major credit card via PayPal, and I will e-mail you a gift certificate, suitable for printing. (See sample.)
Gift certificates expire one year from date of purchase. Since certificates purchased on this site are sent via e-mail, you must provide your e-mail address at checkout.
You can purchase:
You can also purchase gift certificates by:
mailing a request, including your complete mailing address, along with a check or money order made out to "Tom Swiss" for the appropriate amount to:

EarthTouch Shiatsu
2119 Arlonne Drive
Catonsville, MD 21228


making an appointment, by e-mail or phone (443-803-9621), to deliver payment and pick up a certificate
My home office: 2119 Arlonne Drive, Catonsville (map)
(If you'd like to purchase a gift certificate for a shiatsu housecall, please contact me for pricing details.)
Your e-mail address will not be sold or shared. Your telephone number (requested at check-out) will be used only as a back-up to communicate with you about this purchase if e-mail fails.
If you have questions or if special arrangements need to be made, please e-mail tms@EarthTouchShiatsu.com.
Please contact me for pricing information on housecalls and Shiatsu on the Spot events.